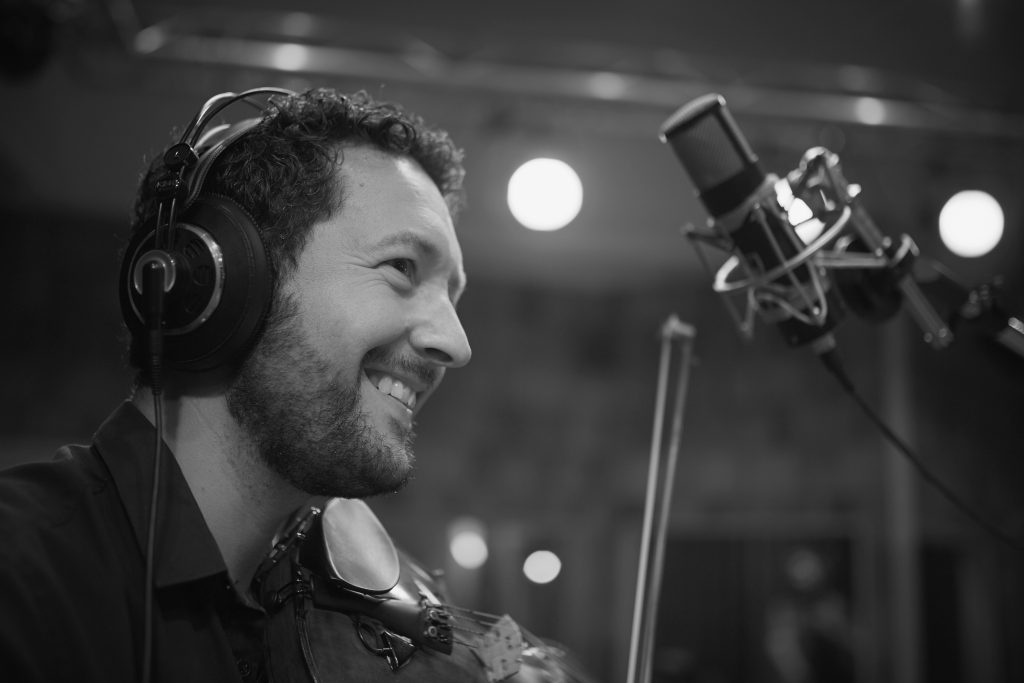 Violinist, composer, and virtuoso facilitator
Meet Bjarke Falgren, fourfold Grammy Award winner and one of Denmark's best and most recognized violin-virtuosos.
Since the age of 7, Bjarke has dedicated himself passionately to mastering his instrument and the music that flows through his almost 300-year-old violin. Svend Asmussen – to many seen as the World's greatest jazz violinist – enthusiastically designated him as his successor stating: "Bjarke Falgren is the hardest swingin´fiddler I have heard since Stuff Smith." In 2017 he received "The Ellen and Svend Asmussen Prize" and the Trelleborg Culture Prize "Grundtvig-Marie prisen".
Bjarke tours all around the world and has released 11 albums with various projects. Furthermore, Bjarke writes and produces music for film and theatre, have been teaching in three music-conservatories and has worked with some of the biggest artists in Denmark and abroad.
Projects
Falgren is presently active as a solo artist and with Bjarke Falgren Quartet, Bjarke Falgren & Sönke Meinen duo, Paolo Russo & Bjarke Falgren duo, Hot N Spicy + Mads Mathias, Catbird, Flamenco Passion, Aires Del Sur plus numerous of other constellations.
He has also worked with:
Ana Silvera, Mads Mathias, Mathias Heise, Jacob Fischer, Henrik Gunde, Cæcilie Nordby, Søren Huss, Mike Sheridan, Mads Mathias, Mads Langer, Outlandish, Mike Marshall, Darol Anger, Rugsted/Kreutzfeldt, Daniel Herskedal, Jens Lysdal, Kaya Brüel, Paolo Russo, Nico Gori, Anette Bjergfeldt, Hilde Louise Asbjørnsen, Billie Koppel, Catbird, Nikolaj Busk, Mikkel Nordsø, Odense Symphony Orchestra…and many others.
Extracts from the press:
"Falgrens proficiency in the language of music is without limits, his precision and his spectacular, seductive, lyrical playing are all reasons why one would have to search far and wide for an adequate superlative."
Manuel Weber, Kieler nachrichten
"Falgren plays with a devil-may-care approach, a big sound and a bite in his stroke, which can very well remind one of Stuff Smiths, but Falgren's musicality goes deeper than Smiths'."
Boris Rabinowitsch, Politiken
"Falgren is a very competent musician who wrings out emotions of his instrument that one hardly thought possible."
Bo Carlsson, Österlen magasinet
"Falgren stood among those on another level. The tonal quality and ingenuity complimented his melodious thinking. He inspired his band and audience to a euphoric high."
Ulrika Lind, Nya Åland
"In short, there is a little magic in the air, when the young Danish violinist plays his old violin, and no doubt that he, with his sharply swinging way of playing, places himself in the Danish jazz-violin-list of kings."
Kjeld Frandsen, Berlingske tidende
"Falgren must be designated as a top-class talent within the world of jazz violin. A delightful respect for the history of the instrument coupled with a youthful will to flout the history and just play in the now."
Kirkegaard og Gjedsted Jazz Special
"The most heartbreaking violin that I have ever heard in rhythmic music."
Thomas Broge-Starck, Soundvenue.dk 
"In the hands of Bjarke Falgren, we get a versatile suggestion of how the instrument can be used – from elegantly swinging to emotional, and in the other end of the spectrum robust and rock-influenced."
Kirkegaard og Gjedsted Jazz Special
"Falgren is a musician you listen to with the greatest of attention when he tethers the limits of his violin to the extreme."
Stein Kagge, Aftenposten –NO .
"As an organizer, your expectations are always exceeded when booking Bjarke Falgren. More warmth, more dialogue, more humor, more energy, more play. And then this huge and heartfelt joy of being a musician and a mediator of a trade which, with Bjarke Falgren's talent, reaches far beyond the title of 'an artist'". Sofie Rask Andersen, Dramaturge KGL+, The Royal Theatre, Denmark
"Bjarke Falgren is in a special league, an excellent violinist, the hardest swingin' jazz violinist I have heard since Stuff Smith, and I consider him as my successor." Svend Asmussen
"Bjarke Falgren has performed several times at royal parties at Fredensborg and Christiansborg Castle with huge success. His skillful playing has delighted the many guests." Christian Eugen Olsen, Royal Master of Ceremonies.
"Copenhagen will be the host of the World Congress of the Union of International Architects in 2023 and Bjarke Falgren played a vital role in making this come through. Bjarke came all the way to Seoul to play at the Danish bid reception and he charmed everybody with his enchanting musical interpretations, excellent one-man show, good humour and brilliantly engaging performance." Anette Blegvad, Arkitektforeningen
 "Bjarke Falgren has visited Den Rytmiske Højskole (The Rhythmical folk high school) on several occasions. Besides a musical approach on an equilibristic level, Bjarke Falgren creates with his music and storytelling a unique atmosphere, which touches and embraces all listeners. A very special solo concert. " Stig Kaufmanas, folk high school teacher at Den Rytmiske Højskole
 "It was a beautiful musical experience. One of those that expands the room and lets dreams swim through the cracks for a moment, while it takes the listeners for a flight on the light wings of free thoughts. Humor, sensitivity, and relevance makes Bjarke Falgren a both entertaining and moving experience for the young as well as the elderly audience."  Simon Lægsgaard, principal, Brandbjerg folk high school.